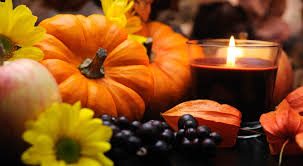 …. and now … OCTOBER!
Time for apple orchards, wine tastings, Octoberfests, walks before winter and cozying up to a nice bonfire.  While many are closing up cabins, putting away boats, motorcycles, bicycles … others are readying for hunting, fall fishing and … okay, I won't say it.
With the light changing earlier, make sure your headlights are on!  Please don't rely on the automatic feature.  And be mindful of the deer season approaching.
Slow down, take your time … a minute or two slower at the light rather than running the yellow/red won't make a difference but may save a life.
This month's Full Moon will occur October 24th.  October's moon rises just after sunset and sets around sunrise, so this is the only night in the month when the Moon is in the sky all night long.
It is called the Full Hunter's Moon … when the leaves are falling and the game is fattened. Now is the time for hunting and laying in a store of provisions for the long winter ahead. October's Moon is also known as the Travel Moon and the Dying Moon.
Enjoy your Fall!